Application Fields - DENARASE®
Viral Vector Production for Gene Therapy
Host expression systems such as HEK293 cells are used for viral vector manufacturing. The genetic information for the virus and the therapeutic gene is introduced into the culture using plasmids. After viral vector production the cells need to be lysed for viral vector yield optimization. At this stage the product is exposed to large quantities of nucleic acids from the host cell and residual plasmids.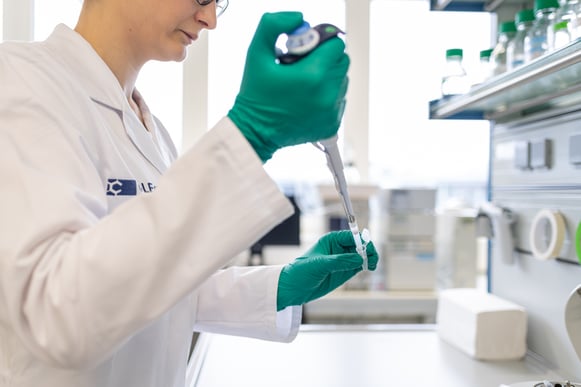 DNA can form aggregates with product and cell debris, which makes viral vector purification challenging. Addition of DENARASE® before the lysis step rapidly digests DNA without interacting with the product. This helps to improve performance of subsequent purification steps and increases the overall vector yield.
Enzymes such as DENARASE® endonuclease can be of great benefit for vaccine purification since they are available in large quantities at the highest quality level. Enzymes do not interfere with other molecules, which makes the process of developing urgently needed vaccines much faster.

Vaccines are intended to activate the human immune system against threats such as unknown viruses. The vaccines can be an inactivated form of the whole virus, an attenuated virus, or a part of the virus (antigen). More modern approaches even use viral vectors or directly introduce DNA or RNA in the body to express antigens in cells.
Endonucleases are used in a range of vaccine purification applications with various expression systems. Examples of processes with DENARASE® are:
Viral Vector Production, such as Adenoviruses and AAV's

Viral Vaccines

Virus Like Particles
Treatment of cell lysates, before viral vector purification is one of the applications for which DENARASE® is often used. High DNA concentrations originating from the host cell can form aggregates with the product and cell debris, which leads to reductions in capacity of purification equipment. Addition of DENARASE® reduces the formation of aggregates, thus increasing the overall vaccine yield.

Not quite ready to buy yet?
Get in touch with our DENARASE® expert team!